Every year our court reporters are asked about how the evolution of speech recognition technology will change our industry. Our response has always been that effective speech recognition software is still years away. Moreover, systems like Siri are incapable of keeping up with multiple speakers or with individuals who have unique accents. An Eastern Kentucky drawl is like an unknown foreign language to my iPhone. In addition, we have always explained how reporters are more than just the writers of the record; they are the keepers of the record. Court reporters act as the eyes of the Judge during depositions. In any event, enough about us. You are probably more interested in how technology is undermining your car accident litigation career path. Well, the blame starts with Google.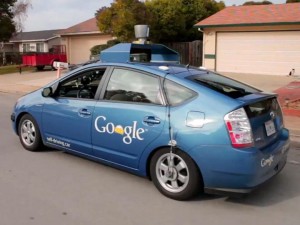 Robotic cars have taken over Mountain View, California
A writer for Bloomberg Businessweek recently wrote that Google Cars are ruining her morning commute. She happens to live in Mountain View, California (home to Google) where dozens of robotic cars are driving autonomously every day. Her complaint is not with the safety of the cars but with her fellow humans. You see, the cars are still novel enough that they attract countless human gawkers who slow down and swerve in an effort to see if the cars really are being driven by a robot (they are). Driverless cars are much like the "horseless carriages" of 100 years ago; people are not sure what to make of them. One thing is for sure, the cars work and they are backed by Google, one of the most influential companies in the world. To be clear, these vehicles are not science fiction; they are on the road virtually every day of the year.
Driverless Cars Have a Perfect Driving Record
Accordingly to USA Today, Google cars have already driven over 400,000 miles on American roads without causing a single accident. Keep in mind that the cars are being driven in urban areas, during all parts of the day and in regular traffic. The cars are not surrounded by human monitors or driven under special closed-road conditions. Instead, they are driving in the exact same traffic environment as your morning commute. The cars are equipped with sensors which monitor 360 degrees around the car. They keep their distance from other cars, use fuel more efficiently than humans and always remember to use their turn signals. Moreover, researchers believe that traffic congestion will virtually disappear as more Google cars are added to the road. Google cars always remain a standard number of car lengths away from other vehicles and never make merging errors. In short, they appear to be perfect drivers.
The Future of Car Accident Litigation.
The American Automobile Association estimates that the annual cost of car accidents is in the range of $150 Billion to $166 Billion Dollars per year. In addition, the United States' car insurance industry charges roughly $200 Billion in premiums every year. Assuming that roughly a third of these costs ultimately filter down to attorneys (both plaintiffs and defendants) then car accident litigation is worth $60 to $80 Billion Dollars per year to the legal community. Said another way, that is roughly $50,000 for every attorney licensed in America. As court reporters, at least 15% to 20% of our depositions are related to car accident litigation. The question then remains, what does the legal community look like when human drivers are replaced by Google's self-driven cars? Well, it probably looks a lot smaller. While accidents will likely still occur and be more expensive when they do (driverless cars are expensive), the overall volume of wrecks are likely to decline dramatically. Moreover, there will be no need to litigate fault as the entire driving history will be stored on every car's "black box." Attorneys who continue to practice in this area will need to educate themselves on the technical operating systems of the cars and become familiar with how the cars are maintained. In all likelihood, the majority of future accidents will be caused by software or hardware failures. Attorneys will have to be much more technically savvy and specialized than today's car accident attorneys.
When to Panic?
A lot of people are inclined to think that driverless cars are still a distant possibility. However, most industry insiders believe that this technology could be readily sold to the consumer within five years. California, Nevada and Florida have already passed laws to allow driverless cars. The vehicles are safer and more eco-friendly than those driven by humans. Not to mention, they could eliminate drunk-driving and distracted-driving accidents. You heard it from your court reporter first: these cars will become a significant portion of the total number of vehicles on the road in the next twenty years. So what to do? In the 1990s, Kodak conducted a study which concluded that digital photography would jeopardize their profitability within ten years. Kodak's study was correct but its leadership did nothing. The company formally went bankrupt in January. The point is that attorneys should begin educating themselves now. Diversify your practice and take part in drafting the regulations that will govern how driverless cars are used. Take time to think about what the law of driverless cars should look like. Will it be like a products liability case or more like a traditional negligence claim? These are questions to be answered by attorneys…not their court reporters. However, the attorneys who do take the time to answer these questions may be the only ones practicing in car accident litigation by 2043.