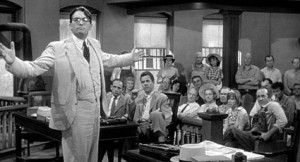 Everyone carries an idealized image of the courtroom in their head. The quintessential image is that of Atticus Finch defending Tom Robinson in a tense Alabama courtroom. Most people also visualize a loud (slightly corrupt) judge and a demure court reporter dutifully noting every word of the record. The reality is that judges are, for the most part, dutiful public servants, the courtrooms look nothing like Maycomb, Alabama and there are no court reporters in courtrooms. Yes, you read that last line correctly, there are no court reporters in Kentucky's courtrooms and it is a trend which is spreading across the United States as judicial systems opt to go digital.
Who Is Keeping The Record In Kentucky Courtrooms?
The absence of court reporters in the courtrooms does not mean that the record is not being preserved. Instead, the Administrative Office of the Courts has installed digital video and audio equipment throughout Kentucky's courthouses. This allows the court clerk to create a digital record of all proceedings without the need for a court reporter to transcribe every word in shorthand during a trial or hearing. The advantage is tremendous for the court system – – millions of dollars are saved by not transcribing every word spoken in the courtroom. However, there are real drawbacks for attorneys who need a written transcript to review after each day of trial. The second, and perhaps even bigger problem, is that attorneys do not have a written record available to review when they elect to pursue a Circuit Court decision. As you might have guessed by now, Kentuckiana has a solution to the "missing court reporter" problem.
Transcribe Your Trial To Save Time and Money.
So what really happens after your trial is over and you need to file an appeal? Well, you simply order a CD or VHS copy of the trial proceedings from the court clerk. In Kentucky, Civil Rule 98 establishes that the courtroom video record IS the record for the purpose of appeal. As an attorney, you are required to cite to the number of the video recording and the month, day, year, hour, minute and second at which the referenced testimony begins and ends on the video. This means that you might be watching 40 hours of video over and over in order to cite specific portions of the record. An attorney is likely to spend more time (and the client's money) reviewing and citing the record than the amount of time actually spent at trial. This is where Kentuckiana Court Reporters comes in. Our professional transcriptionists can transcribe your entire trial in less than a week at a cost of about $3.25 per page. The transcript will include a synchronized keyword index that makes your trial video completely searchable. Instead of listening to three hours of testimony to find where a witness referenced "Boo Radley", you can simply type "Boo Radley" into our search engine and it will take you to every place on the video where those words were spoken. You can then easily reference the time stamp that is visible on the courtroom video record.
The Kentuckiana Appellate Advantage.
While your opponent is trying to sort through 40 hours of videotape you can utilize a fully searchable multimedia CD. Our court reporters, transcriptionists and proof readers will have provided you with a completely accurate word-for-word transcript of your trial that is hyper-linked to the courtroom video. Type any word and you can instantly go to any part of the video record that is relevant. You can then cut and paste the already transcribed testimony into your brief and easily cite to the video time-stamp. In other words, you can replace a week's worth of searching the record with an afternoon's worth of index-assisted review. You will save money and your brief will be better because you spent your time researching and applying the law rather than looking for a time-stamp.
Huge Cost Savings For Your Client.
Most court reporters charge over $6.00 per page to transcribe trial testimony. This is because they are accustomed to selling two copies of deposition transcripts when they are only selling one copy of the trial. Kentuckiana, on the other hand, has both court reporters and full-time transcriptionists available. With our full-time staff we are able charge less than half of most competitors (without sacrificing quality). In short, we let you keep your heard-earned money. Some attorneys may also elect to take a court reporter to trial with them at their own expense. Frankly, if you need a fresh transcript of the proceedings every evening then this is the best option for you and we can also provide that service without breaking your bank. In short, become more efficient and save yourself thousands of dollars when preparing for your next appeal. Call Kentuckiana Court Reporters.