Depositions
Depositions are Critical to all Dispute Resolution.
Ever since the Federal Rules of Civil Procedure were adopted to eliminate "trial by ambush," depositions have been at the heart of every legal dispute. In fact, fewer than 2% of all civil cases even go to trial. When an attorney questions a witness today, it is far more likely that he does so in a conference room during a deposition than in a courtroom. Attorneys typically exchange written discovery for over a month prior to taking depositions. It is also common practice to have outside experts such as medical professionals, vocational experts and accident reconstructionists review records and assist in preparation for one deposition. When you spend dozens of hours and thousands of dollars preparing for one deposition, the importance of the court reporter cannot be understated. You must be sure that your one shot at a witness is preserved accurately. Our court reporters and videographers generate redundant copies of the audio and stenographic notes from your deposition. We also download our files to our secure server and to a secure internet cloud server. Only with Kentuckiana Court Reporters can you be sure that your transcript is accurately saved in perpetuity.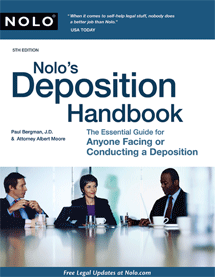 You don't have to take our word for it…read the book. Smart attorneys are convinced that depositions are the most critical aspect of litigation. Do not leave your transcript up to chance, schedule your court reporters and videographers with Kentuckiana Court Reporters.
If you need to take any depositions in Louisville, call our Louisville court reporters. If you need to take depositions anywhere in Kentucky, Indiana, Ohio or Tennessee, we are your best choice. Call Kentuckiana Court Reporters and experience a new level of quality and service.
Louisville Court Reporters | Lexington Court Reporters | Florence Court Reporters
London Court Reporters | Indianapolis Court Reporters | Cincinnati Court Reporters