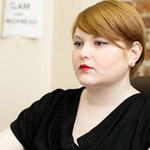 Courtney Wiggins graduated from the University of Louisville in 2009 with a Bachelor of Arts in Integrated Communications and English and with minors in Psychology and Sociology. As Transcript Manager, Courtney is responsible for the process of monitoring, measuring, and reporting transcribed documents by court reporters and transcriptionists. She reviews transcripts against audio recordings while applying industry-specific standards provided by current resources and references such as the National Court Reporters Association and the American Association of Electronic Reporters and Transcribers. Courtney interprets and evaluates inconsistencies, discrepancies, and inaccuracies in legal diction and appropriately clarifies and/or reports them as required. Said another way, Courtney's job is to guarantee that an accurate transcript gets from the court reporter to the attorney in as little time as possible.
Courtney works with a diverse group of court reporters on a daily basis. From real-time writers to digital court reporters, she has the experience necessary to help them rapidly deliver accurate transcripts. Her court reporters rely on reporting systems as diverse as Case Catalyst, Eclipse, and StenoCat. Courtney does not just juggle court reporting formats, she also effectively weaves together the many diverse personalities that work in such a high pressure industry.
Courtney has extensive experience working with Louisville court reporters, attorneys, and their support staff. She does a great job of coordinating with transcriptionists, scopists, court reporters, and proofreaders to ensure that accurate transcripts are always delivered on time. We have provided court reporting services to attorneys in all fifty states. Whatever your unique delivery needs, Courtney has been there before.
When she is not reviewing your depositions, EUOs, hearings, and transcripts, she enjoys spending time with her husband, her Pug, and her cat, fixing up her house, going to museums and the zoo, attending theatrical productions, reading, karaoke, and event planning.
Courtney also volunteers her time with the Kosair Children's Hospital, the American Cancer Society, and AFSP – Out of Darkness .