Legal Video Depositions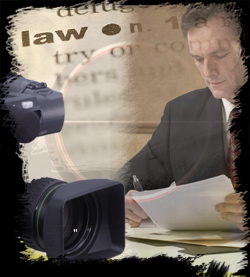 Contrary to our reputation, we aren't just the best Louisville court reporters. Kentuckiana Court Reporters was the first court reporting firm in Louisville to add a full-time staff of videographers to provide legal video at depositions, arbitrations, conventions and other meetings. By relying on employee videographers instead of independent contractors, we are able to ensure a consistent, high-quality, digital video record of your legal proceedings.
Quality
[br]
All of our videographers are trained in-house to allow for a thorough and customized training experience. There are a lot of videographers out there who have little-to-no experience in the legal field and certainly are not familiar with Kentucky's rules governing the use of video cameras at a deposition. Let's face it, you do not want a videographer at your deposition whose last job was a wedding reception. By choosing Kentuckiana you can relax knowing that your legal video will be digitally recorded in a manner that complies with Kentucky Rule of Civil Procedure 30.02(4). Otherwise, your video may be ruled inadmissible due to technical errors as described in KRCP 30.02(4)(f).   To be clear, we regularly refer to the rules governing videography in Ohio, Tennessee and Indiana.  No matter where your case is being litigated, rest assured that our videographers familiarize themselves with all applicable rules and statutes well in advance of your deposition.
Affordability
[br]
Videography is a fairly recent addition to the discovery process. Years ago, video equipment cost tens of thousands of dollars and required formal schooling to operate. As a result, videographers demanded a very high hourly rate.  Thankfully, technology has dramatically reduced the cost and technical sophistication of video equipment. Ask yourself, why would a videographer's fee be higher than attorneys?  In our era you should expect high quality digital video recordings without the price gauging.  We pride ourselves on reasonable rates.   Of course, you do not have to take our word for it, here is what our clients are saying about the affordability and quality of our videography:
These guys are the best. Bekah and her staff make it so easy. They've adapted to the new world of taking depositions by video-only by offering video-only court reporting, but not overcharging for it or punishing attorneys with ridiculous fees for wanting to save some money. We used to tape our own video depositions to try and save money for clients, but Kentuckiana has made it so easy and inexpensive that we just have them take care of it for us. – – Brian Cook, Bahe Cook Cantley & Nefzger
Experience
[br]
Our legal video department has seen almost every situation you can imagine.  We have taken depositions in homes, hospitals, airports, nursing homes, fire-damaged buildings and even a parking lot.  Our videographers are regularly called upon to film Independent Medical Exams and other medical procedures.  We do not call ourselves experienced just because we have been around the longest, we are experienced because our videographers are solely committed to legal videography on a daily basis.  Again, we defer to our customers to provide the best description of our abilities:
Kentuckiana Reporters does an excellent job. Its reporters and videographers are very experienced. Additionally, Kentuckiana Reporters' turnaround time for receiving transcripts is very short, which makes attorneys' jobs much easier. I highly recommend Kentuckiana Reporters to anyone needing stenography or video services. – – Seth Gladstein, Gladstein Law Office
I have always used Kentuckiana Court Reporting since practicing in Louisville for the past six years. Not only are they friendly and prompt, they will always come and save the day in a pinch. I have used Kentuckiana for assistance with Trial Director and other trial litigation software during lengthy trials, and its staff was fantastic.  Lynsie Gaddis, Wilson Elser Moskowitz Edelman & Dicker LLP
Let our legal video team earn your confidence so we can add you to the growing list of positive reviews. When you need a legal video deposition in Louisville, or anywhere in Kentucky, give us a call!
[br]
Louisville Court Reporters | Lexington Court Reporters | Florence Court Reporters
Cincinnati Court Reporters | London Court Reporters