Kentuckiana Reporters offers the largest and most experienced in-house videography team in Louisville, Kentucky. Ryan Adkins, a Certified Legal Video Specialist, leads our videography team. The CLVS program sets and enforces standards for competency in the capture, utilization, and retention of legal video and promotes awareness of these standards within the legal marketplace. The National Court Reporters Association strongly recommends the use of Certified Legal Video Specialists to ensure the integrity of both the video of legal proceedings and the official transcript.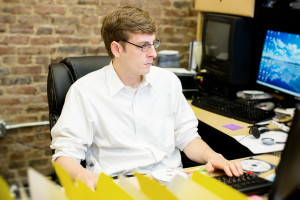 Every video taken by our videography team is taken with the assumption that it will eventually be shown to a jury. This means that our video is shot with high quality video and audio equipment. We know that the sound captured on the video is just as important as the actual images recorded. How many times have you started a video at trial only to have to turn the the volume up as high as possible so that the jury can hear the testimony? With our video, you can be sure that the audio is crisp, clear and taken at conversational levels.
We maintain an objection log of every video to enable rapid and accurate editing when you are getting ready for trial. Every DVD you receive from Kentuckiana will be clearly labeled as either "Trial Ready" or "Not Edited for Trial". This step will ensure that you never accidentally play stricken testimony during a trial or hearing. We also offer rapid and accurate video editing so that you can focus on your trial rather than piecing together video snippets. We have an experienced staff that is capable of running-change editing during trial. Do not stay up until 3:00am cutting video for the next day of trial – – we will do that for you.
For more information about Louisville videography, Louisville CLVS or Louisville Certified Legal Video Specialists, give us a call at 502-589-2273.