Get Experienced Louisville Kentucky Court Reporters, Videographers & In-House Litigation Services at Kentuckiana Court Reporters
730 WEST MAIN STREET, SUITE 101
LOUISVILLE, KY 40202
Telephone: 502-589-2273 / 877-808-5856
Fax: 502-584-0119
Advance your case with the support of Louisville's oldest court reporting and litigation support firm. Our court reporters, videographers and in-house litigation support staff are available 24 hours a day to assist attorneys, their staff and clients.
Kentuckiana Court Reporters provides unmatched service to attorneys, government agencies, insurance companies and Fortune 500 companies throughout Kentucky, Indiana, Tennessee and Southern Ohio. With offices in Louisville, Lexington and London, Kentucky, and Indianapolis, Indiana, our firm can reach every corner of Kentucky and the surrounding region.
Court Reporting Services:
Additional Court Reporting Office Locations:
Your Choice for Louisville Kentucky court reporters: Kentuckiana Reporters: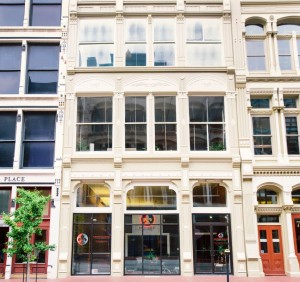 Take your next Louisville legal video deposition in our stylish (and complimentary) conference rooms: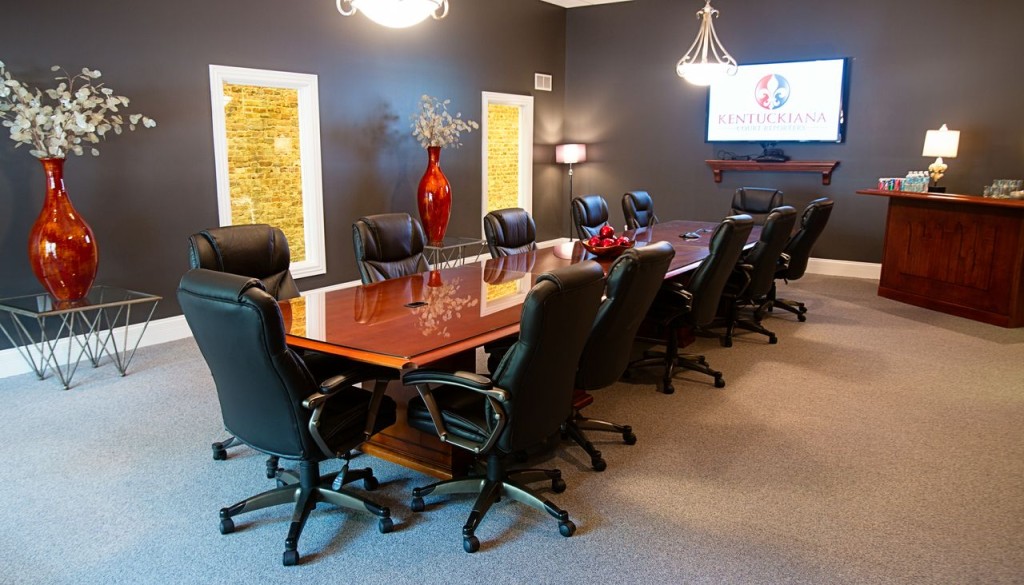 Relax during your breaks at our Louisville location in our comfortable lobby:

Kentuckiana's Julie Lunn Provides Accurate Court Reporting
for the Shanklin Ethics Hearing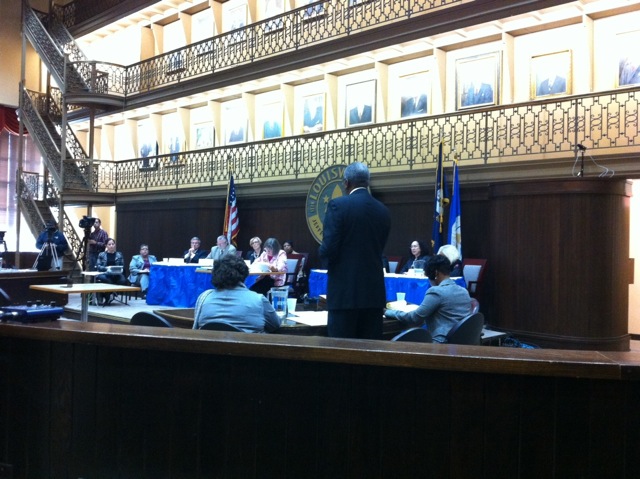 ---
Kentuckiana now provides a free Portable E-Transcript Viewer for your iPad and iPhone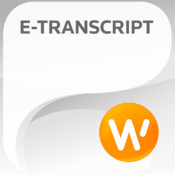 Portable E-Transcript Lets You:
Search and find terms within your E-Transcript with a word index
Receive E-Transcript format (PTX) via email, Dropbox and iTunes®
Add electronic highlighting and notes
Email a transcript with highlighting and notes from your iPad or iPhone
Update the transcript in the desktop version of Westlaw® Case Notebook to include the highlighting and notes added in the app.
Please download the free E-Transcript App Now
---
Kentuckiana Welcomes its Newest Stenographic Reporter!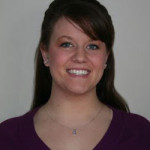 Rachel Steelman 
We are pleased to announce our newest
stenographer, Rachel Steelman
---
Kentuckiana Welcomes New Real-Time Reporter!

Sandra Ventura
We are pleased to announce our newest
stenographic real-time reporter, Sandra Ventura
---
Seven Day Transcripts

Guaranteed 7 Day Transcripts
Guaranteed 7 Day Transcripts at 14 Day Day Prices.
---
What's New?

Certified Green Court Reporters
Kentuckiana Goes Green While Saving You Green!… Read more >>
---
What's New?

Kentuckiana Court Reporters Featured in Business First
Kentuckiana Reporters' Alice Ballard built business on keeping tabs on testimony. Business First of Louisville Interviews President & CEO of Kentuckiana Reporters, Alice Ballard and says: "Court Reporting runs in the blood of Alice Ballard's family… Read more >>
---
What's New?

Video Conferencing Now Open 
Announcing our new Video Conference Center
and offices now open… Read more >>
---
The Kentuckiana Reporters Difference

What Makes Us Unique
We provide our clients with a wide and diverse set of litigation support solutions, but the real difference in the service and products we deliver comes down to three key operational differences other firms don't provide… Read More >>
---

Nationwide Coverage
We Have Court Reporters Everywhere
Arrangements for a court reporter anywhere throughout the world can be made
by calling our corporate office or using our online scheduling form.
---
Video-to-text/Audio-to-text Synchronization

Synchronized Transcripts
You now have the power to perform a keyword search in the transcript
and view the corresponding video instantly. Read More >>
---
Realtime Court Reporting

Realtime Transcription
Realtime transcript text appears on your screen as a
Kentuckiana court reporter transcribes. Read More >>
---
Video Recording/Digitizing

Certified Legal Videographers
Video reporting and digitizing provided by our certified legal videographers
who specialize in videography and video conversion technologies.
Read More >>
---
Document Management

Copying, Scanning, Archiving and more…
Document copying, scanning, and archiving; automatic Bates numbering;
and database assembly, including coding and OCR. Read More >>
---
Kentuckiana Reporters, LLC is the premier Louisville Kentucky court reporting and legal video deposition firm. We provide every technological advantage in your discovery efforts. We are leaders on the forefront of qualitative and technological advances in court reporting services , providing cutting-edge, high caliber litigation reporting. We are among the best in the business, courteous, and experienced in all phases of litigation. We are setting the standard for quality and professionalism in the legal field. Kentuckiana is family-owned and operated with full-time administrative personnel, certified court reporters and certified legal videographers . We have built a reputation on the quality and professionalism of our deposition and legal video services .
Our experienced staff, with over 80 years combined years at Kentuckiana, is dedicated to delivering a personalized service that is unparalleled in the court reporting and legal video deposition industry. Our primary goal is your satisfaction. When you decide to work with Kentuckiana, you gain the stability of a firm known throughout the legal and court reporting and legal video industries for reliability, quality and experience.
KENTUCKIANA REPORTERS provides synchronized audio-to-text and/or video-to-text files on CD with EVERY transcript.
Every Totally Multimedia Transcript Includes:
Full Transcript with Word Index, Securely Bound
Condensed Transcript with Word Index
Disk including ASCII File and E-Transcript®
CD-ROM with Digital Exhibits – Fully Searchable Hyperlinked to Transcript, ASCII and E-Transcript®
Color picture of witness on title page and on your Kentuckiana Reporters' Multimedia CD.
Other Exciting Court Reporting Services:
Digitizing of Audio Cassette Tapes and Videotapes and Synchronizing, Word-by-word To Text On CD-ROM
Complimentary Airport Pick Up And Return With Scheduled Depositions
CD-ROM with Digitized Audio and/or Video SYNCHRONIZED Word-by-word, Text-to-Audio and/or Video, allowing searching across all audio, video and text files COMPLIMENTARY, Viewer, clipping and highlighting capability exportable to all litigation software and trial presentation software programs.
Storage in Perpetuity in Secure.File Safe® Repository
Totally Secured Repository and Total Case Management of All Data and Text Files Stored In Perpetuity
Video Conferencing Worldwide, Seven Days A Week
Multimedia Courtroom Presentations using Smartboard Technology
Complimentary Conference Rooms And Catering
We encourage and invite you to explore our website or contact us to find out how we can help you meet your court reporting and video needs today.
Court Reporters Louisville KY | Court Reporters London KY | Cincinnati Court Reporters  | London KY Court Reporters |
Indianapolis Court Reporters | Lexington KY Court Reporters