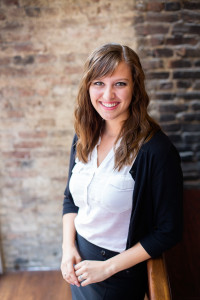 McKenzie Dadisman is our Scheduling Manager. She puts her communication skills to the test every day as she regularly coordinates with hundreds of attorneys, paralegals, and secretaries from across Kentucky and the country in general. McKenzie must work to ensure that every client has comfortable conference rooms, a professional court reporter, and expert videographers.  McKenzie works hard to constantly assess the needs of our clients in order to better accommodate them and ensure that they have a court reporter in Louisville, Lexington, Florence, Bowling Green, London, Hazard, Paducah, or any other part of Kentucky or the surrounding region. She is available 24 hours a day to field calls for last-minute depositions. Anytime you need a Louisville court reporter, call McKenzie.
Originally from Bloomington, IN, McKenzie has called Louisville home for over three years. She took depositions daily before moving into scheduling and has experience with virtually every type of litigation, including medical malpractice, nursing home cases, personal injury, divorce, Workers' Compensation, coal mine litigation, business disputes, government hearings, and many others.
While McKenzie does work from our Louisville court reporters' office, she provides services to all of Kentucky. During any given week, you might see her in Louisville, Lexington, Hazard, or Paducah. Our goal is to make the deposition process as easy and convenient as possible for the attorneys and paralegals who rely on our services. When you travel, we travel.
McKenzie has volunteered as a member of TORCH for the last six years. She assists in mission work, home building and food delivery for at-need families overseas. McKenzie also volunteers with ECHO, the Exploited Children's Help Organization, and serves as a youth mentor at the Okolona Church of Christ.
When not working, she enjoys cooking, playing volleyball and softball. She is a lifelong fan of the Miami Heat and New England Patriots. (Her dog is named Brady.)
Like all of our court reporters, McKenzie produces your deposition transcript within seven business days. We do this at no extra charge because we know how important it is for your clients to have information in a timely manner. As an attorney, you don't want to make your clients wait over a month for a deposition summary. When you rely on Kentuckiana Reporters, your transcript will be delivered quickly so that you can relay all of the information obtained at the deposition to your clients.