New Albany, Indiana Court Reporters
Court Reporting | Legal Video Specialists | Conference Rooms
Please call 1-502-589-2273 or click here to schedule a deposition.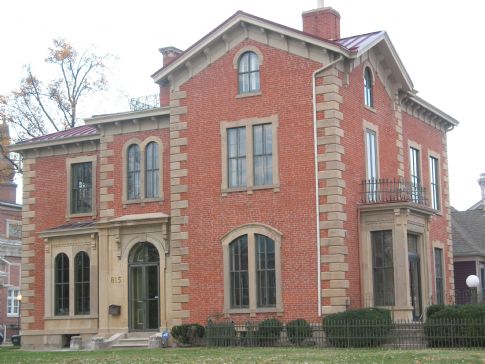 Servicing all of the Midwest and Providing Court Reporting
and Legal Videography Services Nationwide.
Please call 877-808-5856 or email schedule@kentuckianareporters.com
815 East Market Street, New Albany, IN 47150
Kentuckiana Reporters has provided court reporters and legal videography services to New Albany, Indiana since 1976. Our New Albany court reporters' office is conveniently located in the heart of downtown New Albany. With spacious parking, large conference rooms and comfortable amenities, we offer the premier location of depositions and mediations in New Albany, IN. Conference rooms are complimentary when you schedule any of our court reporting or video services. Our reporters are professional, on-time and committed to providing the best service available. Kentuckiana provides timely service that is second to none. We offer real-time and same day transcripts upon request. Otherwise, your transcript will always be delivered within seven (7) business days.
Kentuckiana Court Reporters is the premier choice for New Albany, Indiana court reporters. We provide court reporters and legal video deposition services to New Albany IN. Kentuckiana Reporters has put together a balanced staff of experienced court reporters to serve New Albany.
Our court reporters are bringing a fresh approach to court reporting in New Albany. We guarantee that transcripts will be produced within seven business days, we offer the lowest rates in Southern Indiana and we have a full time staff of proofreaders review every transcript to ensure accuracy. Kentuckiana Court Reporters is simply the best court reporting solution for New Albany, IN.
Kentuckiana Court Reporters has court reporters and legal video deposition services available in New Albany, Indiana. We will assist you by reserving conference rooms, court reporters and legal videographers in New Albany, Indiana.
About our New Albany Office
Our New Albany office is located in the historic Hess House located at 815 East Market Street, New Albany, Indiana 47150. The building dates back to 1855 when James Brooks, Esq. purchased the entire half-block of real estate bounded by Spring, East Ninth and Market streets and the alley for $5000. Several of the original outbuildings are still in existence today, including the servants' washhouse (behind 317 E. 9th) and the carriage house (behind 323 E. 9th). Mr. Brooks was founder and first president of the New Albany-Salem Railroad, later known as the Monon, The Hoosier Line. Merchant/banker/industrialist Lawrence Bradley purchased the property from the bank for about $12,000 after Mr. Brooks lost his estate in 1863. During the 1870s, the Bradleys made several improvements to the residence including erecting an ornamental iron fence around the grounds. In 1901, Mr. Bradley lost the property to the bank, which began selling off parcels of the estate and demolished the north and northwest wings of the mansion. This led to the development of the west side of the 300 block of East Ninth Street. In subsequent years, the building was home to the Hassenmiller and Kenney families, served as the Knights of Columbus Hall, the Plumbers and Steamfitters Union Hall, the pediatrician office of Dr. Patrick Hess, and later, his art gallery. The building has recently undergone an extensive rehabilitation and now serves as offices for Kentuckiana Court Reporters.
Email us at schedule@kentuckianareporters.com or call 877-808-5856 for your next deposition in New Albany, IN.
Production and Distribution
Centralized production and distribution. Your transcript is centrally produced and archived in our secure repository by our offices so that you always get the same assurance of quality, familiar format and guaranteed 7-day turnaround.
All document production is done "in-house." We do not rely on any other company to produce our documents.
Maintaining control of the documents allows us to ensure that the final product is in keeping with our high standards.
Convenient access to repository. ALL transcripts are formatted and produced in our offices and stored in our secure repository permanently and indefinitely. No need to search for the delivery or location of transcripts. Legal staff has access to our secure repository 24 hours a day.
Customized Billing
Fair and familiar invoicing: we generate all invoices, extend reduced rates when available and stand behind you as a client wherever your discovery needs take you.
To complement our approach to cost savings, Kentuckiana Reporters has formed strategic alliances with other reputable legal service providers. Kentuckiana can procure these services at a fraction of the cost you would if you were to contact them directly.
We also know that your Accounts Payable department can get inundated with invoices from multiple vendors. In addition to the "hard cost" savings, you will also save additional "soft costs" by reducing the number of invoices to process. It is estimated that an additional 10%-20% savings can be realized by streamlining the accounts payable function.
[color-box]
Schedule a Deposition Now
[/color-box]