Louisville Court Reporting Services
As a court reporter owned company, Kentuckiana Reporters, LLC cares about each and every client experience.  We have standardized many of our reporting services based on customer demand but can provide you with virtually any court reporting service available today.
Rebekah Turner McDonner, CDVS
Licensed Court Reporter
"Myself, along with our experienced staff, are dedicated to delivering a personalized service that is unparalleled in the court reporting and legal video industry. Our primary goal is your satisfaction."
Member of:
Participant of:
NCRA's Ethics First Program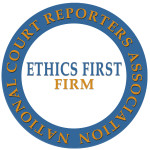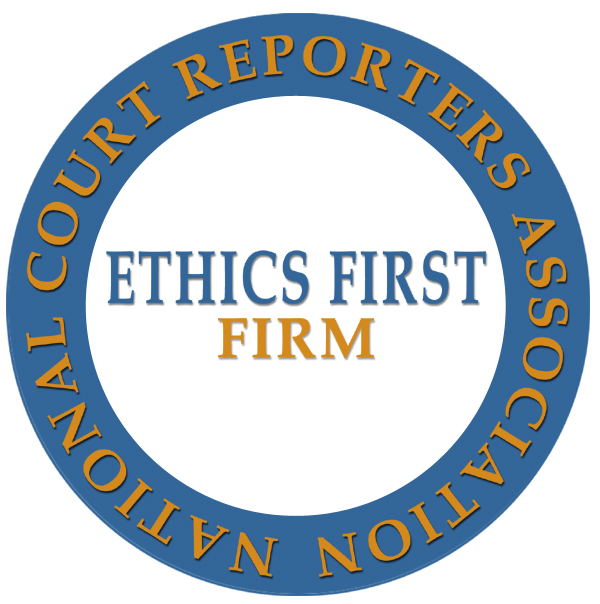 [hr]

Court Reporters
The Best of the Best
Our court reporters are regarded as the best in the business. Our court reporters use state-of-the-art technology and our court reporting services are unequaled. Other firms within our industry cannot compete with our standards and technology. View Court Reporters
[hr]
Transcript-to-Video Synchronization

Your Days of Endless Fast Forwarding Are Over!
You now have the power to perform a keyword search in the transcript and view the corresponding video instantly. Read More >>
[hr]
RealLegal® E-Transcript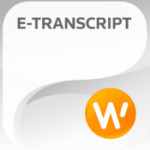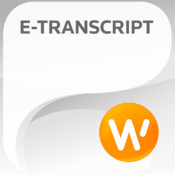 Quality Transcripts. 
Are you still arriving at depositions with just legal pads, sticky notes and a handful of highlighters?  We can help you go paperless with our fully integrated electronic deposition transcripts.  Learn more here:  RealLegal E-Transcript
[hr]
Real-Time Court Reporting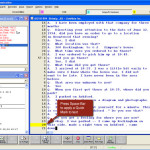 Instant Transcript Translation
Your laptop or tablet receives the text output from the court reporter's stenographic machine while testimony is being given. You will be able to see the witness' testimony in writing the same way you view closed captioning on television.  We can also provide onsite draft versions (uncertified copies) or ASCII disks without costly expedite fees. Real-Time Court Reporting
[hr]
Multimedia Transcript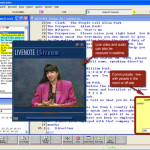 Every Totally Multimedia Transcript Includes: 
Our multimedia transcripts include all of the following: Full Transcript with Word Index, Condensed Transcript with Word Index Disk including ASCII File and E-Transcript® CD-ROM with Digital Exhibits – Fully Searchable Hyperlinked to Transcript, ASCII, and E-Transcript® Exhibit Linking Multimedia Transcripts
[hr]
Document Imaging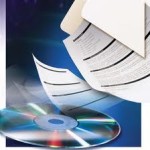 Save Time And Money
We can image all of your depositions and exhibits so that you can access them on CD, tablet or on your server in a matter of seconds! Document Imaging
[hr]
Exhibit Linking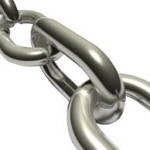 Simplify Evidence Review
Writing deposition summaries and preparing for trial will be faster and easier when you can view all exhibits simply by clicking on its name in the transcript. Exhibit Linking
[hr]
Tape Transcription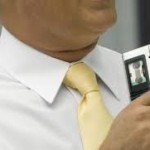 Our transcription team has over 30 years of experience.
Our transcription staff is able to produce quality written transcripts from your dictation, interviews, phone calls or any other source of audio recording.  Depending on the length of your recording, we can generally have a transcript to you in as little as 24 hours.   Tape Transcription
[hr]
Standard Services:
Seven-Business Day Turnaround or Less, Full-Sized Transcript, Condensed Transcript, Word Index, e-Transcript, ASCII, Exhibits Scanned to pdf, pdf Transcripts with Electronic Exhibits Linked, Online Scheduling, Court Reporters Specializing in Technical Expert Witness Testimony and Complex Litigation, Free transcript viewer for your mobile devices
Also Available
Daily Copy Rush, Any Expedited Rush, Realtime, Realtime Demo Computer, Rough ASCII, Searchable Multimedia CD, Videoconferencing, Transcript in ANY Format, Video Services, Conference Rooms Available, Pre-discovery Document Scanning and Online Storage, Data Compatible with all Litigation Software Formats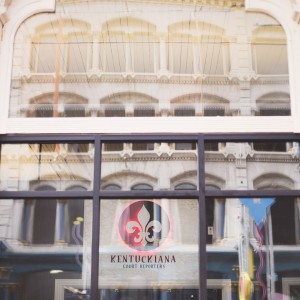 Kentuckiana Court Reporters
730 West Main Street, Louisville, KY 40202 | 710 East Main Street, Lexington, KY 40502
502-589-2273
schedule@kentuckianareporters.com
Court Reporters Louisville KY | Court Reporters London KY | Cincinnati Court Reporters  | London KY Court Reporters |
Indianapolis Court Reporters | Lexington KY Court Reporters