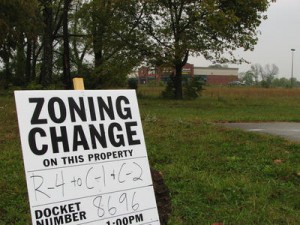 The Courier Journal recently reported that the Louisville Metro Government has proposed charging neighborhood groups $2000 or $3000 when they ask the Metro Planning Commission to hear discussion on controversial zoning changes in the evenings. When a developer seeks approval to build a parking garage or an apartment complex, nearby property owners can petition the Planning Commission to schedule a special meeting. Neighborhood groups usually want the meetings near the effected property after working hours so that all residents can attend.
Louisville Metro has struggled to pay the cost of holding such meetings outside of their downtown location. This is because the downtown facilities offer built-in digital court reporting equipment to record the meetings while facilities in Louisville's neighborhoods, such as churches and firehouses, do not have court reporting equipment. As a result, Louisville Metro has been paying $1200 to $1500 per meeting for stenographers to travel to the hearings.
Kentuckiana Court Reporters has offered to provide court reporting services for all evening zoning hearings at a rate that is about 80% lower than those previously quoted to the Metro Department of Planning and Design Services. Frankly, we were stunned to learn that the city was being charged $1200-$1500 for two or three hours of court reporting. That rate would make sense if Louisville Metro wanted a written real-time transcript of the proceedings. However, we spoke with Steve Porter, an attorney who represents many neighborhood groups, and learned that they really just need an electronic record of the proceedings with the option for future transcription. In other words, Louisville Metro has been paying a premium for a service that it does not really need.
Kentuckiana Court Reporters can cover all City zoning meetings for between $150-$300, a savings of more than $1000 per hearing. We have also offered to do some work pro bono to help out indigent groups. It is vitally important that Louisville's residents have their voices heard by the local government and we will do whatever we can to help. Even if someone later needs the hearing transcribed, we would project a 20%-30% lower rate that what has been paid in the past.
Kentuckiana Court Reporters has been a part of the Louisville community for over 35 years and we are proud to help out during these tough financial times. If you need court reporting services but have financial limitations, give us a call and we will always try to help.