Louisville City Guide
[br]
Kentuckiana Court Reporters is a full-service court reporting and legal video firm. Our Louisville court reporters are committed to taking the hassle out of your deposition experience. Your focus should be on the substance of your examination. We will handle the scheduling of conference rooms, videographers, court reporters, notaries, interpreters, airport shuttles and any other need that may arise. We will even make your dinner reservations. We hope you find our Louisville City Guide helpful.
Where to Stay for your Depositions

[br]
Louisville is easily navigable by car and offers a wide-range of hotel options from budget to full-service throughout.  Most depositions occur in the downtown area so the following list only includes downtown hotels.  The courthouses and convention centers are also downtown. Give us a call for rooms in the suburbs if needed.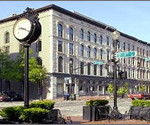 21c Museum Hotel
21c Museum Hotel is ranked as a top 25 hotel in the world by Condi Nast. Located only one block from Kentuckiana's office, this is truly the perfect place for you to stay during depositions, trials or other legal matters in Louisville. 21c is less than a five minute walk from Kentuckiana  Court Reporters.
[hr]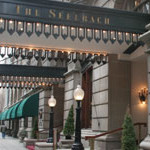 Seelbach Hilton Hotel 
Seelbach Hilton Hotel is a 4-diamond luxury hotel located near Fourth Street Live. It has famously hosted presidents, monarchs, A-List celebrities and even Al Capone! F.Scott Fitzgerald  used the Seelbach as the backdrop for the Buchanan wedding in The Great Gatsby. The Seelbach is a five minute taxi ride from Kentuckiana Court Reporters.
[hr]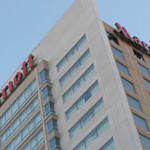 Louisville Marriott Downtown
Stay in sophisticated style in the heart of downtown. The Louisville Marriott Downtown is the city's only 4 Diamond AAA Convention Hotel, providing 616 spacious rooms and suites, two restaurants and 35,000 square feet of event space in the middle of Downtown Louisville.  The Marriott is about a ten minute walk from Kentuckiana Court Reporters.
[hr]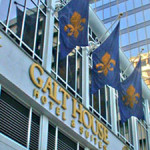 The Galt House
.The Galt House Hotel, the largest hotel in Kentucky offers a wide array of well-appointed lodging options with 1290 guest rooms, including 650 suites. Choose from five types of luxurious accommodations—Executive Suites, Waterfront Balcony, Two-Bedroom Waterfront Suites, Deluxe Guest Rooms and Extended-Stay Apartments. The Galt House is about a five minute walk from Kentuckiana Court Reporters.
[hr]
Where to Eat
[br]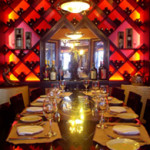 Jeff Ruby's
Jeff Ruby's Steakhouse is committed to delivering in incomparable dining experience. Zagat rates Jeff Ruby's higher than any steakhouse in New York or Chicago. No matter where you are from, you will love your dining experience here. As an added benefit, its within a short walk of Kentuckiana Court Reporters.

[hr]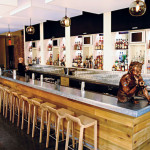 Proof on Main
Lauded as one of Esquire magazine's "Best New Restaurants," Proof on Main in downtown Louisville's acclaimed 21c Museum Hotel is a favorite for locals and visitors alike. With a commitment to local farming, Proof delivers plates infused with local flavor. The bar is a local hot spot and features 50+ Kentucky Bourbons. Complimenting the culinary artistry, Proof features rotating contemporary art exhibitions, curated by 21c Museum.
[hr]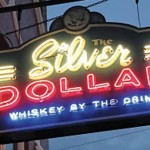 The Silver Dollar
The Silver Dollar is Louisville's take on a Bakersfield honky-tonk bar.  While you will get strong whiskey by the drink, this is not a rough and tumble bar full of dust bowl migrants. Their latin accent on the old flavors of Louisville is simply something you have to try to understand. The Silver Dollar is also a favorite after-work destination for much of Louisville's legal community. Stop by after your deposition at Kentuckiana Court Reporters.
[hr]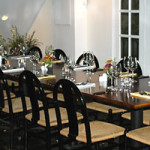 610 Magnolia
610 Magnolia. Located in the heart of Old Louisville, 610 Magnolia offers a unique combination of southern hospitality and urban sophistication, and has been praised as the area's finest dining destination. With seating for 50, it is open on Thursday, Friday and Saturday evenings only. The six-course, pre-fixed, seasonal menu changes weekly. With only one-seating nightly, guests are offered a leisurely opportunity to dine on innovative dishes by acclaimed Chef/Owner Edward Lee. An extensive wine list changes to reflect the seasons. Reservations are required.
[hr]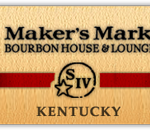 Makers Mark Bourbon House & Lounge
Maker's Mark Bourbon House & Lounge is the place to go for all things Maker's.  As part of the Bourbon Trail, you owe it to yourself to sample Kentucky Bourbon in the relaxed Lounge.
[hr]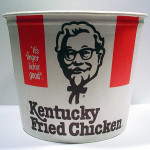 Claudia Sanders Dinner House
Okay, Okay…so it is not exactly fine dining. If you are visiting Kentucky, and you decide on fast food, you might as well make it Kentucky Fried Chicken. Seriously though, Claudia Sanders Dinner House is only 30 minutes from Louisville.  It offers the recipes that Col. Sanders developed after he sold KFC.  Give it a try.
[hr]
Things to Do
[br]
If you are lucky enough to visit Louisville for a few nights, we suggest you try to take in a few of the many sights our city has to offer. Here are just a few of the many options available: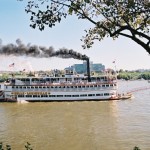 Dinner Cruise
Dinner Cruise aboard the historic Belle of Louisville. Enjoy a scrumptious dinner aboard a treasured National Historic Landmark. The Belle is over 90 years old and is the oldest operating steamboat in the nation. Its a tradition that is even longer than Kentuckiana's.
[hr]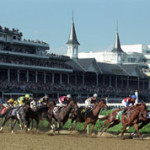 Churchill Downs
Backstretch Breakfast Tour at Churchill Downs. Start your day by experiencing the exclusive atmosphere of a morning at the track with a preview of the magical process of training world-class Thoroughbreds during the early morning workout. Meal is included. After a winning cross-examination, you deserve a day at the track.
[hr]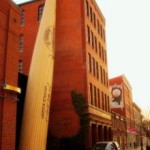 Louisville Slugger Museum & Bat Factory
Louisville Slugger Museum & Factory: Tour the world famous bat factory and admire the world's largest baseball bat before going inside to see how Louisville Sluggers are made. The Museum is literally right next door to Kentuckiana Court Reporters (in case you need a bat during your deposition). Have an all-star experience by swinging a bat just like Babe Ruth's, facing down a 90 mph fastball, and sharing a dugout with Mickey Mantle. The Louisville Slugger has been essential in the sport of baseball since 1884.
[hr]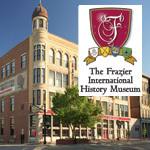 Frazier History Museum
Frazier History Museum Take an unforgettable journey through history that spans 1,000 years and two continents with one of the greatest collection of historical artifacts in the world. You only have to walk across the street from Kentuckiana Court Reporters. The Frazier features a collection of arms and armor of famous politicians, celebrities, frontiersmen, soldiers, knights and kings. If you need to swing a sword after your deposition — this is the place.
[hr]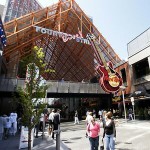 Fourth Street Live!
During a lunch break from your deposition you may want to try Fourth Street Live! Louisville's premier dining and entertainment district features a mix of thirteen leading national and regional restaurants.
[hr]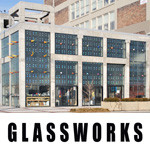 Glassworks
Glassworks Enjoy the country's first complete center dedicated to the art of glass. Located just a couple of blocks from Kentuckiana Court Reporters, you can watch glassblowers, flame-workers, cutters and designers create magnificent pieces of art in an open air atmosphere. Glassworks is well known for its magnificent galleries, featuring artists from around the world and their unique art of blowing glass. Its incumbent that we now say "attorneys are not the only ones full of hot air".
[hr]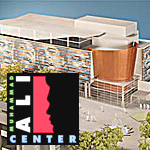 Muhammad Ali Center
The Muhammad Ali Center The Center serves as an international educational center that inspires us to find the Greatness Within. Depositions can be a lot like a boxing match and this may be the perfect place to get ready for your litigation. Preserving the legacy of Louisville's most famous native son, Muhammad Ali, visitors will experience state of the art interactive exhibits and a biographical storyline of Ali's values: respect, confidence, conviction, dedication, spirituality and giving.
[hr]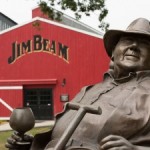 Jim Beam American Outpost
Jim Beam's American Outpost: You just finished a long day of hearings, depositions or settlement negotiations. You are also in the bourbon capital of the world. What you do next is easy: Visit the world's largest bourbon distiller. Learn all about Jim Beam Bourbon and Beam family heritage at the American Outpost. Tours provide insight into the centuries-old art of distilling and the Jim Beam legacy. Sample a selection of hand-crafted small batch bourbons.
[hr]
A Day with the Family in Louisville
[br]
If you are one of the lucky few who are occasionally able to turn a deposition into a weekend get away, then we suggest you extend your stay after the work is finished and see what Louisville Offers the entire family. Breakfast options abound in downtown Louisville. For locations close to our suggested stops, both with kid's menus, try Dish on Market, for a fast affordable breakfast, or check out Panera Bread.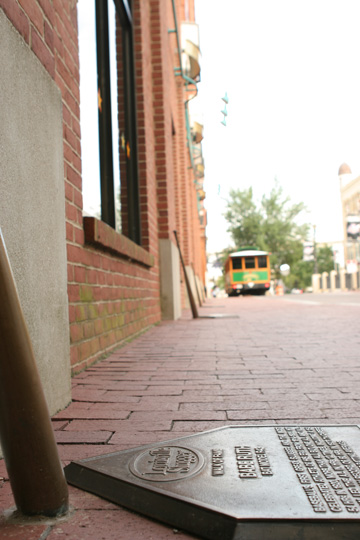 On your way to your first stop of the day, have the kids keep their eyes out the Louisville Slugger Walk of Fame™. The walk stretches one mile on historic East and West Main Streets starting at Louisville Slugger Field. You will walk right past the Kentuckiana Court Reporters building  you as near the end of the Walk at the Louisville Slugger Museum & Factory, where memories will last a lifetime, especially with a family photo op in front of the world's largest baseball bat.
In the late 1800's, cast iron was the building material of choice for creating beautiful decorative building facades that were too expensive to carve out of stone. Louisville's Main Street has one of the largest assemblies of cast-iron from buildings in the United States.  Kentuckiana Court Reporters proudly boasts a cast iron facade in the center of Main Street District.   You will easily notice that the sidewalk bricks in front of the columns are placed sideways and flecked with iron to make it easy to identify the cast iron buildings. If you don't believe us, just stick a magnet on the outside of the building.  It will stay up there.
Directly across the street from our offices you will find the Kentucky Science Center where Science in Play just opened. It is a customized 6,000 square-foot early childhood exhibit with six separate activity zones: The Sensory Course, Testing Area, Big Build, Small Build, Science Depot, and Shapes & Stuff Store. In each zone, innovative elements encourage children ages 0-7 to build, test and engineer new science activities through experimental play.
Offer the kids the choice both within steps on Main Street, or two blocks, of the Science Center — The Bristol Bar & Grille (kids menu) and Luigi's Pizzeria (what kid doesn't like pizza?). Or look for one of downtown Louisville's hot dog vendors (often seen at Jefferson Park, 4th and Main Streets and elsewhere during the week).
The Belle of Louisville cruises the Ohio River Thursday through Sunday from Memorial Day to Labor Day with sightseeing cruises and tours of the locks and dam, as well as themed cruises with live Bluegrass music (a dance hit with the kids), Father's Day, luncheons, comedy night, picnics and more. A National Historic Landmark, the Belle's calliope music leads you to her dock at the 4th Street Wharf where you can buy tickets. Reservations are recommended for the themed cruises.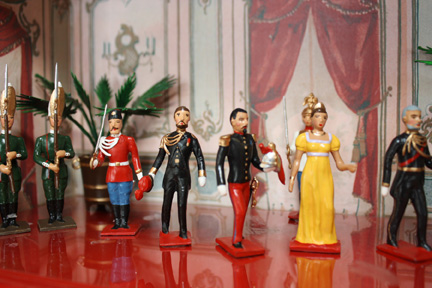 The Frazier's Toy Soldiers exhibit is one of the largest public displays of toy soldiers in the United States. These miniatures depict real people and historical events, feature uniforms such as different tartans for Highland regiments, serve as historically accurate marching and mounted bands and celebrate notable weddings and festivals. And they number more than 10,000 strong.
A short bike ride, or car drive away, the family will love the view from the Tumbleweed Southwest Grill, situated on the Ohio River with boat docks nearby and the Indiana shoreline in sight. Kids under 12 eatfree(from the kids menu) on Sundays!
LOUISVILLE LINKS
Bizzare Foods America Visits Louisville (not necessarily your court reporter's dining choices).
[br]
Louisville Court Reporters | Lexington Court Reporters | Florence Court Reporters
Cincinnati Court Reporters | London Court Reporters